2022 EDUCATION PROGRAM
The 2022 United Soccer Coaches Convention & US Youth Soccer Workshop featured an extensive education program for its attendees. The program included the world's best collection of in-person education, including 200+ education sessions led by top-end coach educators, Ph.D. holders, high-level coaches, and more.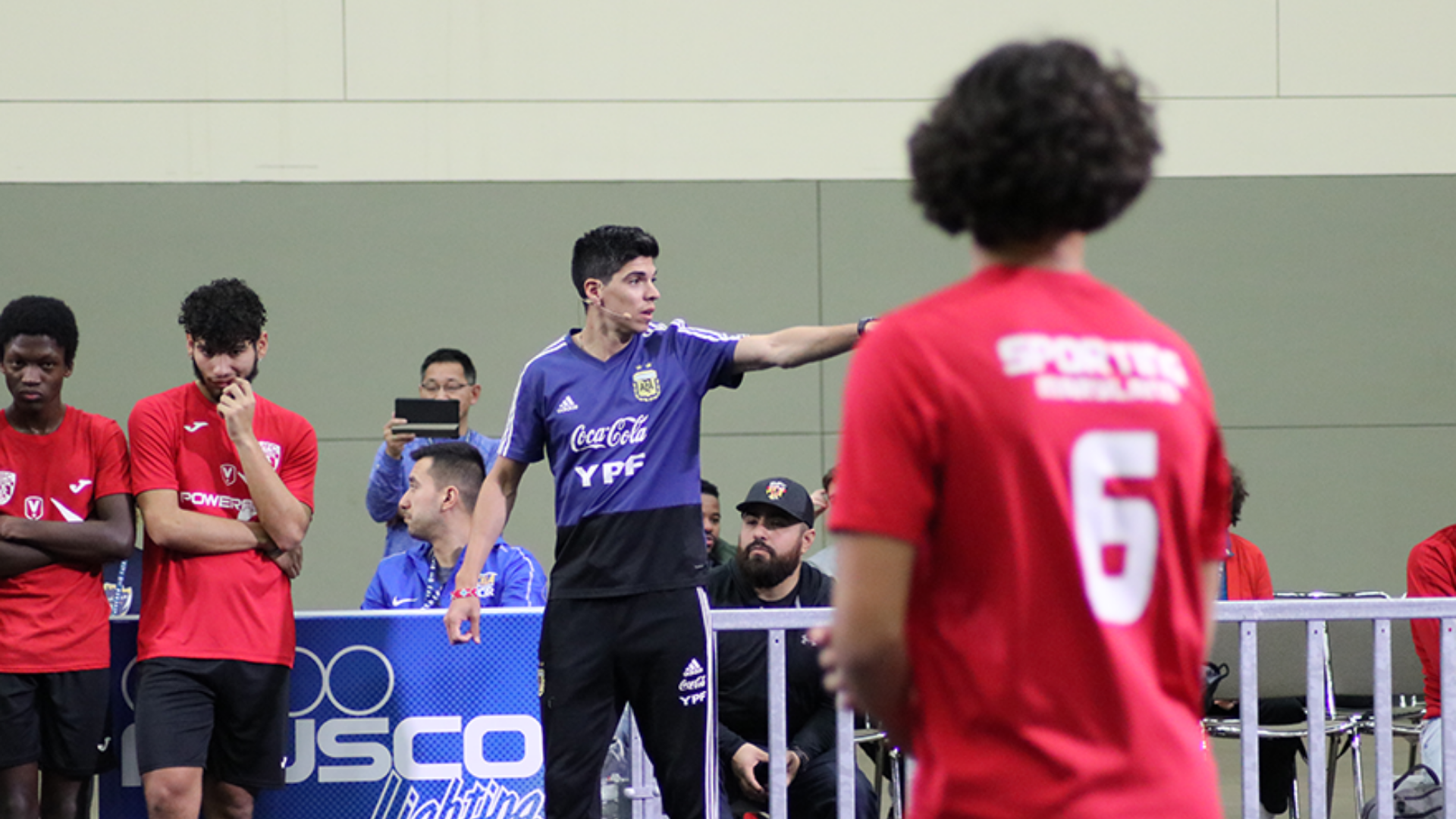 Futsal Sessions
One regulation-sized Futsal floor will be installed for live futsal sessions. The Futsal arena will have seating for 700 and feature field boards, a state-of-the-art sound system, video screens to show the session animations, and live demonstration teams from the local area.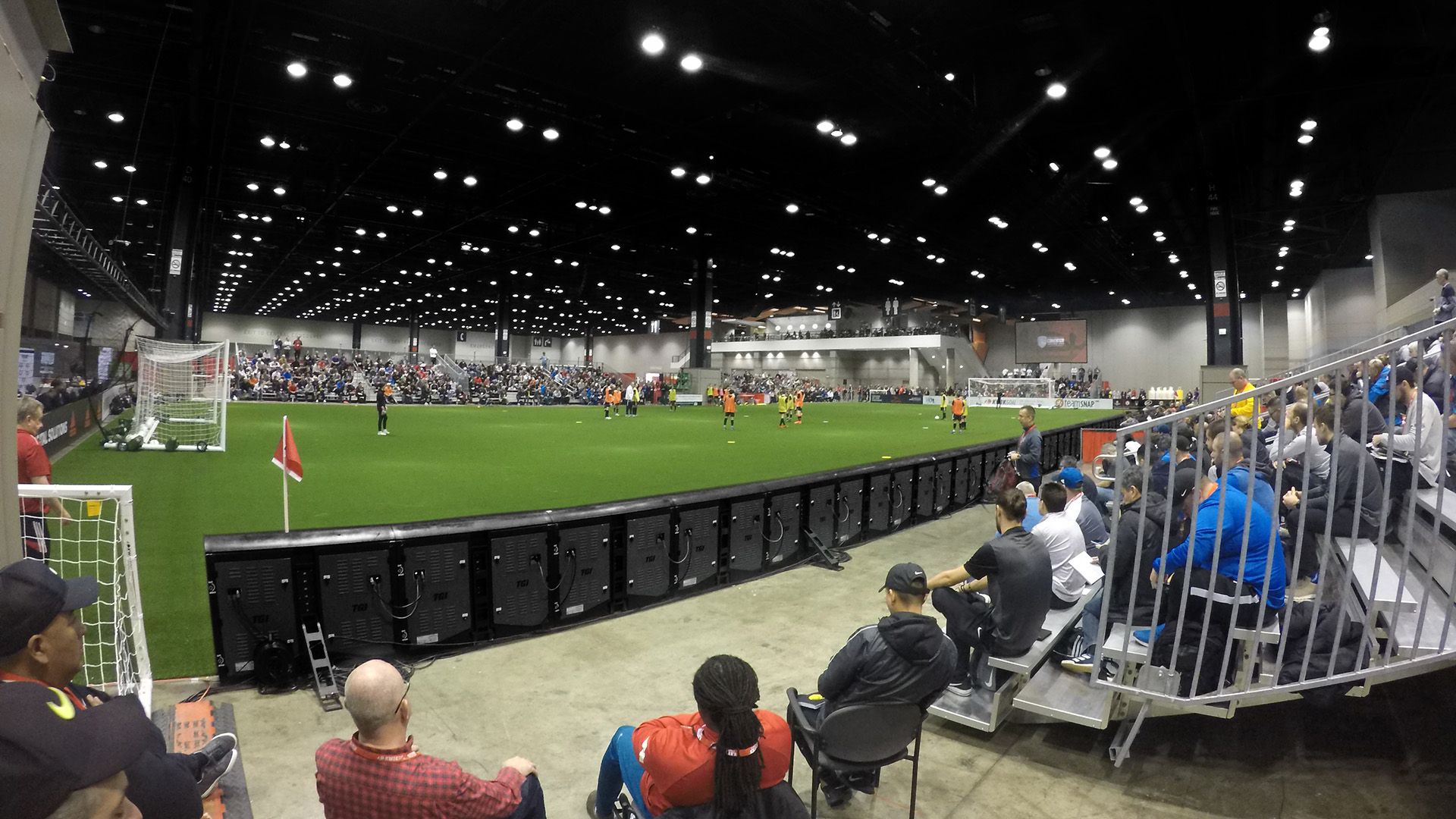 Field Sessions
Two "stadium" like fields are constructed within the convention center. These "stadiums" have a capacity of 1500-2000. They boast field turf artificial surfaces, field boards, state of the art sound systems, video screens to show the session animations, and live demonstration teams from the local area.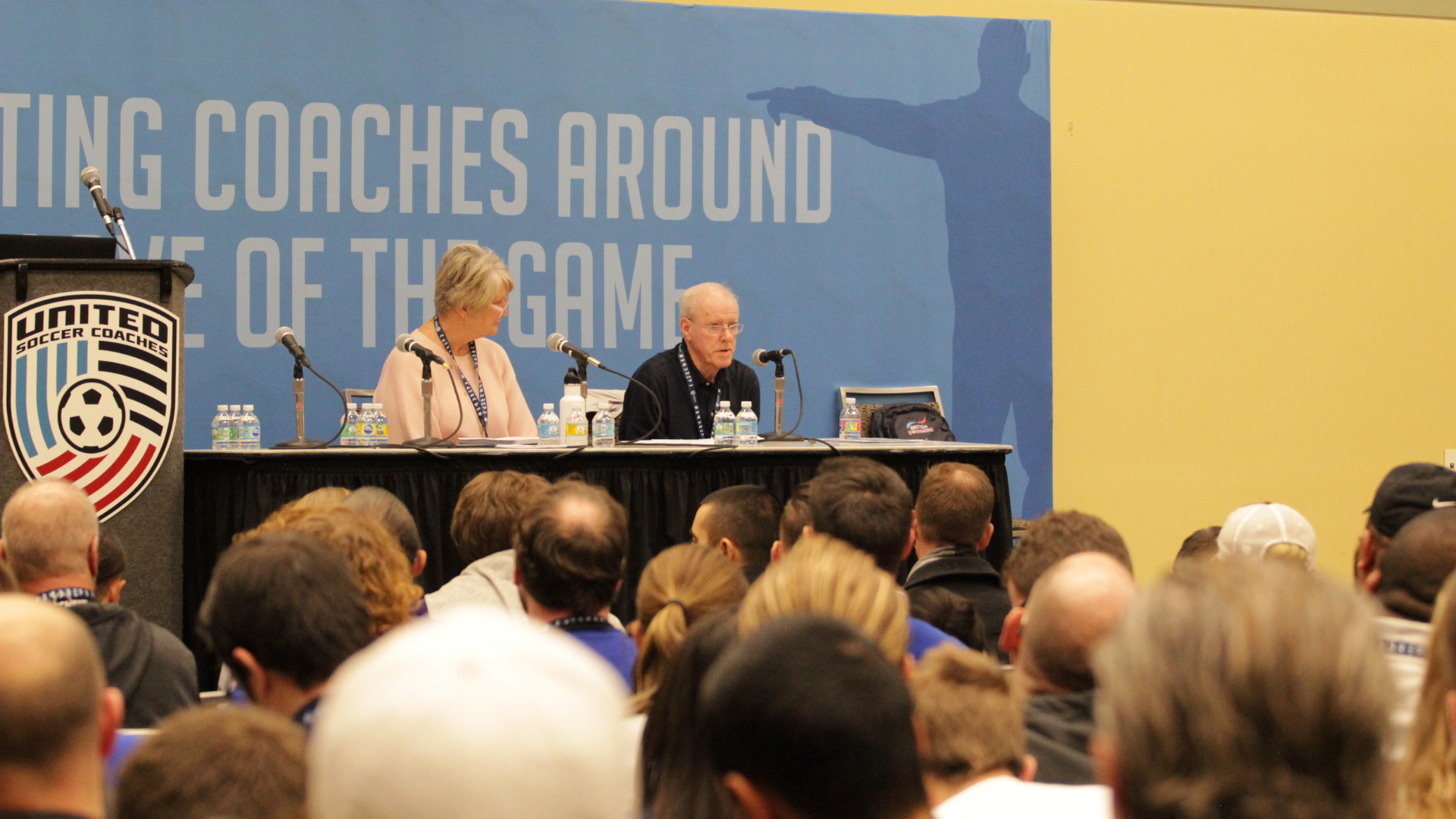 Lecture Sessions
Twelve classrooms will be available for attendees to listen to presenters deliver sessions, including lectures, panels, roundtables, and spotlights. These areas will all video screens, amplified sound, and chair back seating.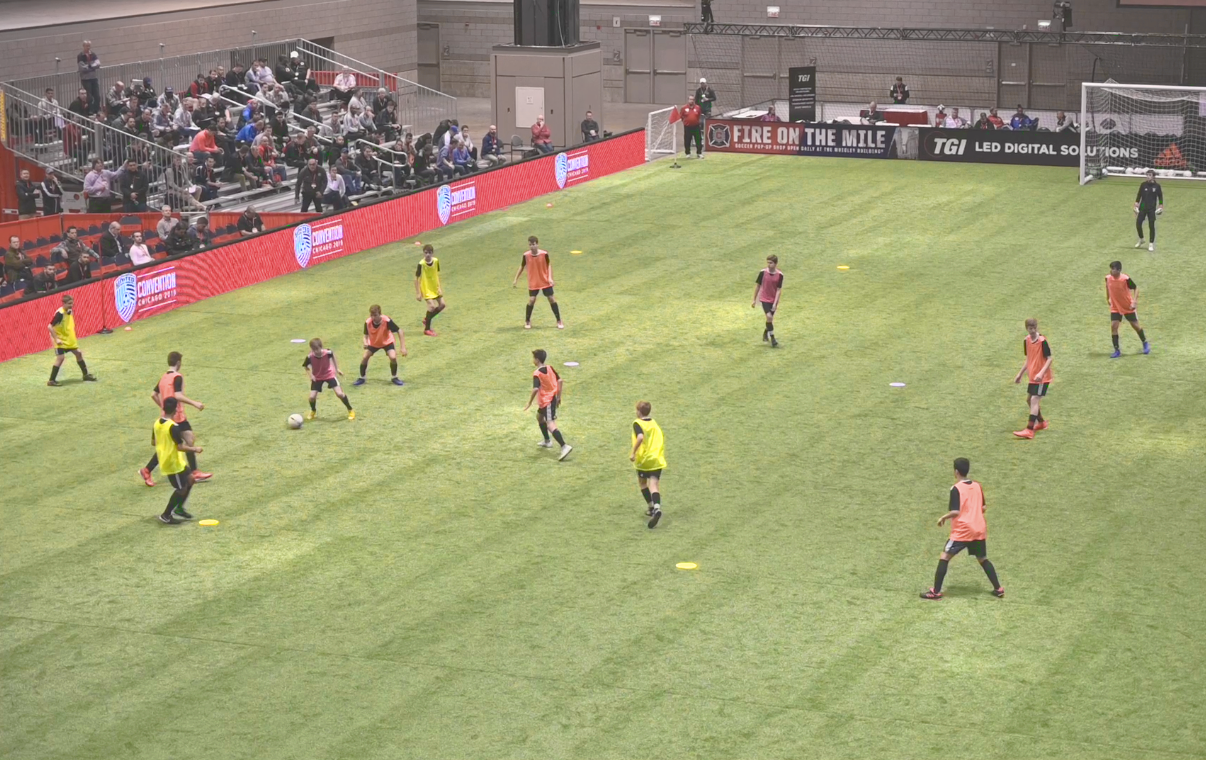 Performance Analysis
Performance Analysis is now recognized as having a crucial role to play in any coaching program. This track will provide examples of how analysis is being utilized to significantly enhance the individual player development process and maximize team performance.
The sessions in this diploma track are aimed at all coaches, with presenters providing insight into how to get the most value from video and data analysis at every level of the game. Session content will cover a range of analysis topics and will include strategies and frameworks for: match analysis and individual player analysis; analyzing opposition; an evidence-based approach to decision making through performance data; and maximizing the value of feedback sessions with players. Coaches will also explore how a more 'player centered' approach to the analysis process is accelerating development, enhancing performance, and increasing levels of player engagement.
Technology has a vital role to play and coaches will examine how to get the most value from the different video and data analysis technologies now available. There will also be an opportunity to 'flip' the focus of our analysis through exploring a unique framework for analyzing and better understanding coaching behavior.
Wellness Essentials for Every Player
Coaches who obtain the Wellness Essentials Diploma will be equipped with knowledge related to the latest research on a broad range of subjects regarding holistic athlete development. A strong emphasis will be placed on developing identifying the needs of the player with a focus on ages and stages of development and optimum practice design. While traditional player wellness topics will be addressed, such as player monitoring, sleep, nutrition, and hydration, a complementary focus of the Wellness Essentials Diploma will be centered upon emotional and ethical intelligence in coaching, developing self-leadership within your team, and fostering a sense of community and strong team culture that focuses on holistically supporting players. The diploma will also explore foundational topics of player wellness often lacking in this area of coach education such as Diversity, Equity and Inclusion, and the Female Factor: Optimizing performance through a better understanding of female physiology.
Attacking Transition and Scoring Goals
The Attacking Transition and Scoring Goals Diploma is ideal for youth, high school and college coaches seeking to improve the attacking performance of individuals and teams. An exciting phase in the game, attacking transitions occur when a team creates a turnover in possession and proceeds to attack the opponent. In this diploma, sessions will focus on various options for the attacking team to counter attack with quick and direct play, or maintain possession with a more measured approach. Presenters will identify a variety of different attacking scenarios based on the defensive organization of the opponent and discuss the strengths of different attacking formations and systems. Attendees will learn a variety of teaching methods to gain a competitive advantage and score more goals.
Training and Developing the Complete Female Player
The Training and Developing the Complete Female Player Special Topics Diploma will be focused on how a coach can provide a comprehensive development model for the female player, including: how to create an ideal training; playing and team environment with positive culture; leadership development; personal growth; mental skills; communication and feedback; efficacy and self-assessment; mentorship; service; and learning life competencies.
Counter Attacking and Counter Pressing
In the modern game, transitional moments are vital. The Counter Attacking and Counter Pressing Special Topics Diploma will cover both transitional moments; winning the ball (counter-attacking) and losing the ball (counter-pressing). Coaches will have a better depth of knowledge, as well as methods and activities to help teach these vital pieces of the game.
Goalkeeping
The Goalkeeping Special Topics Diploma dives into training specific to the goalkeeper position, in addition to integrating the goalkeeper into team training. It will range from grassroots to the professional level.*
*The Goalkeeping Level 2 on Sunday does count towards this diploma.
Professional Development Certificates
Youth Coach
The Youth Coaching Diploma will present modern pedagogy and methodology specific for today's youth players. Updated methods will be presented throughout this diploma track. The theme of saying "Yes to S's" will be presented. The "S's" stand for safe, smiles, skills, and sweat. The youth soccer coach needs to consider and implement all of these to provide a fun experience for all of their players.
Club Leaders
Developed for current and aspiring youth soccer club CEO's, Executive Directors, Board Members, DOC's and Administrators, this professional development certification provides a practical immersion into what successful soccer executives are doing right now. Clubs have become the defining business driver of soccer in America, but Covid has put unprecedented pressure on them. Effective leadership makes the difference between success and failure in 2022 and beyond.
Professional certificate issued upon completion. Add to your resume and LinkedIn.
Navigating Challenges of Club Mergers, Acquisitions and Alliances
Faculty: Louise Waxler, Executive Director, McLean (VA) Youth Soccer; Mike Curry, Retired Financial Services Executive
What if Parents are the Key to Your Success?
Faculty: Chris Price, Founder & CEO, Life Sports
How to Make DEI Your Program's Future
Faculty: Dr. Nefertiti Walker, Vice Chancellor/Chief Diversity Officer, UMass Amherst
Data Magic: Finding the Numbers that Really Matter
Faculty: Aaron Nagel, Executive Director, Colorado Rapids Youth Soccer
Human Resources 101: Your Club is in the People Business
Faculty: Jill Meshakow, Human Resources executive; Jeff McClure, Partner, Davenport Gerstner & McClure
How to Make Culture the Core of Your Club's Success
Faculty: Jim Paglia, Owner, Brands that Stand
Flourish With Smarter Strategic Planning
Faculty: Warren Mersereau, Co-Founder, Soccer Solutions
Managing Your Club Executive Career as a Business
Faculty: Mike Curry, Retired Financial Services Executive; Rob Smith, Business, Marketing & Management Consultant
What Happens to Your Dreamers Now
Faculty: Mirella Ceja-Orozco, Esq., Veteran Immigration Attorney
[Download KC22 App for complete convention schedule, plus session descriptions and faculty bios]
Assistant Coach
Designed with assistant coaches in mind, this professional development certificate outlines various techniques for strengthening the skills required to effectively and confidently serve in this critical role. Whether you aspire to be a head coach or grow your skills as an assistant, sessions in this certificate can assist in developing your personal brand and philosophies. Additionally, this certificate covers interacting with a variety of audiences, management, and leadership skills required in the coaching profession.
The Collegiate Coach, Presented by EDP
While each division poses its own unique challenges, collegiate coaching navigates a wide-ranging field of challenges off the field related to recruiting, regulations, and team training. The Collegiate Coach Professional Development Certificate will explore various methods of managing these challenges, as well as delve into aspects of the job, including leadership, psychology, player management, fundraising, academics, and team building. This certificate is ideal for current and future college coaches.
Director of Coaching
Focusing on the Director of Coaching, this Professional Development Certificate provides a comprehensive overview of the technical, conceptual, leadership, and administrative skills required for developing the American soccer player. Accomplished through a curriculum rich in both application and theory, these sessions primarily focus on organizational structure, methods of coaching, leadership theory, evaluation, and development of coaches and players, as well as fiscal, legal, and moral responsibility.
High School Coach
Endorsed by both the National Federation of High Schools (NFHS) and United Soccer Coaches, this certificate provides high school coaches a broad range of educational opportunities and the opportunity to remain updated on the ever-changing topics specific to the high school game. Sessions will focus on off-field topics related to psychology, leadership, and building a team culture. Additional subject matter includes how to build a program, coaching with assistants, communication with parents, and working with the DEI at your school.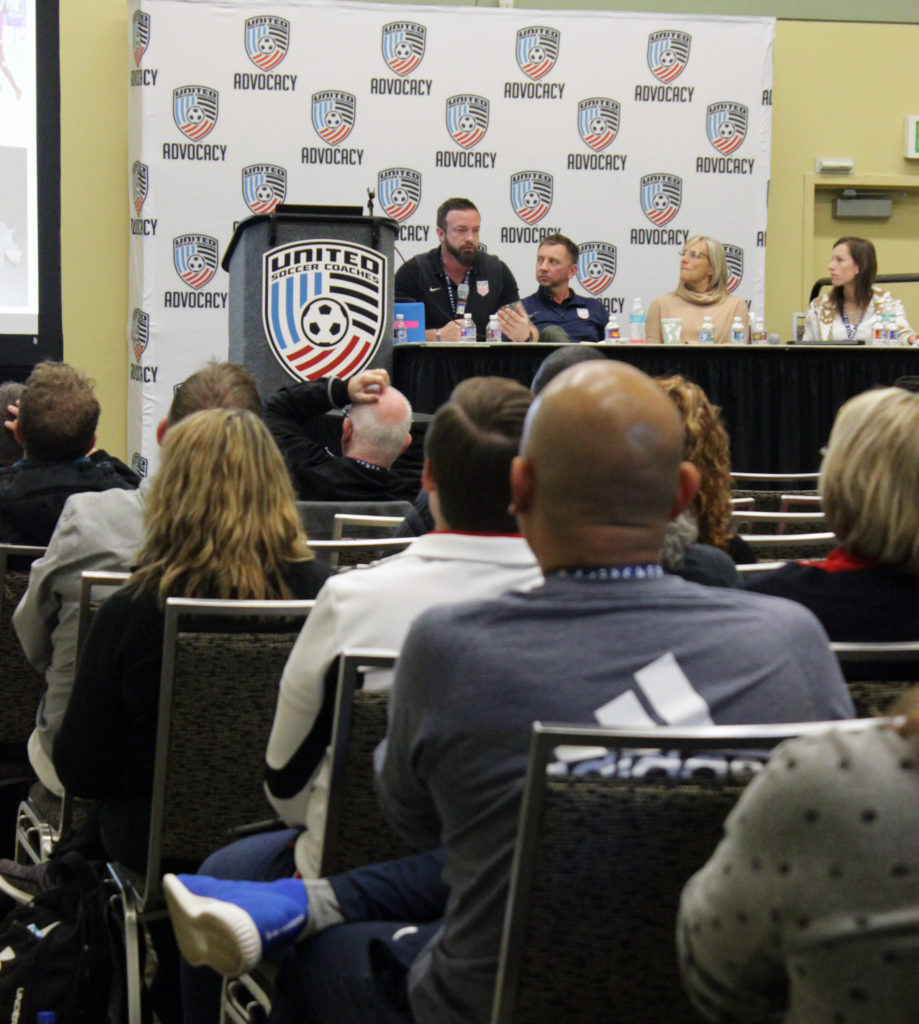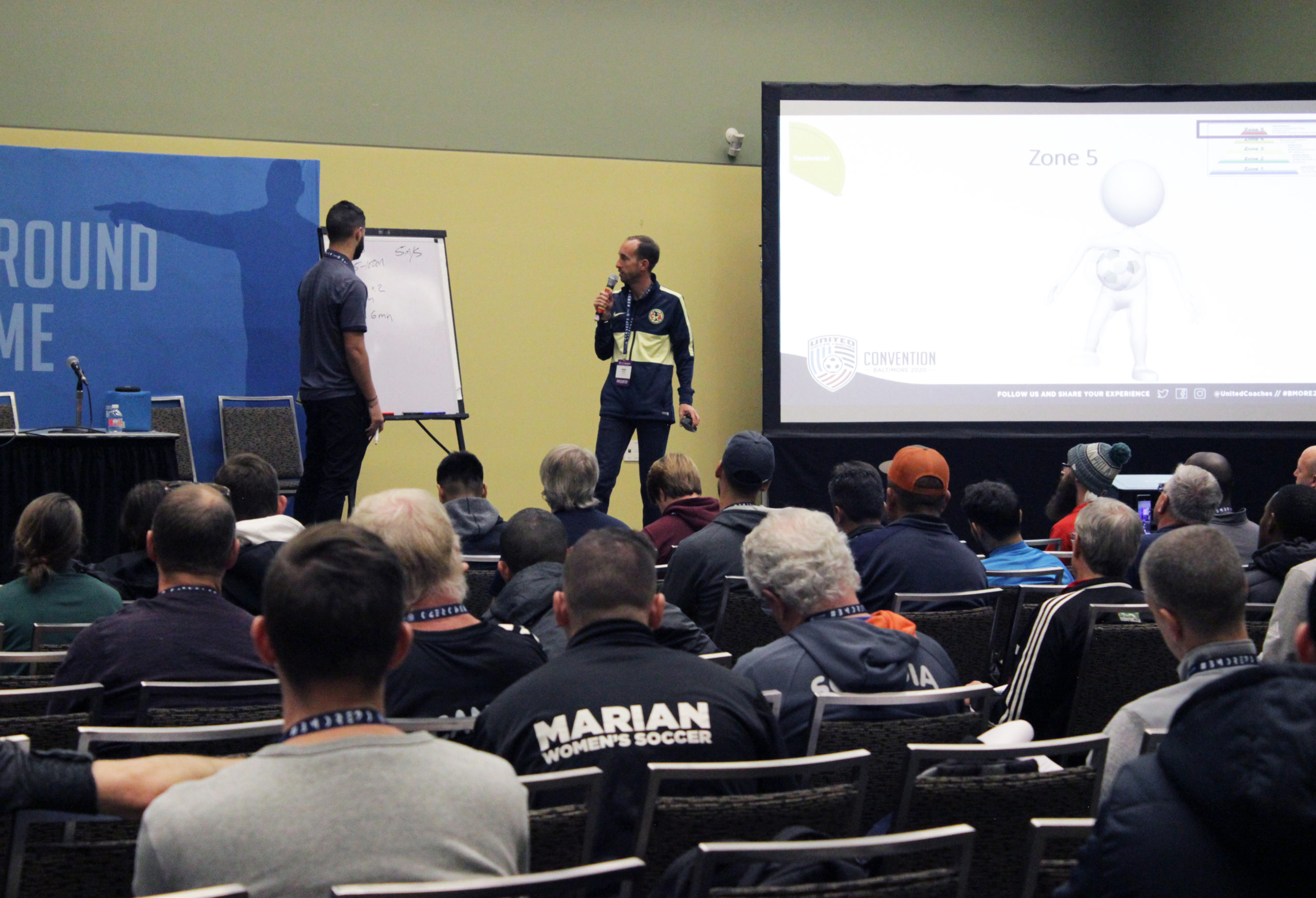 Advocacy
A collection of sessions of Practical Tips and Programming with coach participation.  Specific soccer training for Strength Development, Plyometric and Explosive Development, Teaching Change of Direction, and Physical Development for Athletes Returning to Sport from Time Away for Soccer. A hands on demonstration where coaches will get to experience, ask questions and participate in sound practices for developing power and explosiveness for soccer players.
Referees
This programing will address all levels of officiating, from youth to pro. Topics covered will include meaningful discussions with coaches regarding the relationships between coaches and officials, as well as the differences in officiating between boy's and girl's and men's and women's soccer.
Physical Development
A collection of sessions of Practical Tips and Programming with coach participation.  Specific soccer training for Strength Development, Plyometric and Explosive Development, Teaching Change of Direction, and Physical Development for Athletes Returning to Sport from Time Away for Soccer. A hands-on demonstration where coaches will get to experience, ask questions, and participate in sound practices for developing power and explosiveness for soccer players.
Coaching Futsal
As futsal continues to gain popularity, the ability to coach both futsal and soccer, and utilize combined aspects from both, are becoming critical in the development of high-level players. This diploma? provides an overview of the different tactics and techniques required to coach futsal.
Urban Soccer Diploma
The Urban Soccer Diploma is a unique collaboration between United Soccer Coaches and the U.S. Soccer Foundation that provides tools to coaches working in non-traditional soccer settings. The diploma was conceived out of the need to reach coaches that were not being served by the typical coach education pathways. These coaches work for community-based soccer organizations that serve low-resource communities, and often either do not charge a fee to participate or charge players a nominal fee. This can also mean that they do not have access to high-quality playing facilities or the means to afford typical league fees and new equipment from season to season.
Special Topics Course: Development of the Modern Goalkeeper
For all coaches that want to help develop their goalkeepers. As the game has changed the goalkeeper position is involved in the game more than ever before and needs to be included in realistic team training. Learn about the demands of the position and how to better prepare your goalkeepers for success.