FOR THE FIRST TIME EVER IN THE USA: FOOTBALL BRAINING 1-DAY COURSE
Get to the Convention early to learn from world-renowed coach educator Raymond Verheijen.
United Soccer Coaches in partnership with the World Football Academy is excited to announce a one-day educational event where Convention attendees can have the opportunity to learn from Raymond Verheijen and the World Football Academy. This educational add-on is available to any Convention registrant for an additional $299 and will take place on Wednesday, January 17th from 8:30 a.m. to 5:00 p.m
*Note: As a coach you take your players outside their comfort zone to allow them to improve. You create uncomfortable and challenging situations for your players and you expect them to deal with it. This is what we call overload. World renowned coach educator Raymond Verheijen is well-known for applying this exact same principle when educating coaches. So, this session will not be your normal comfortable coaching course. Instructor Verheijen will create his famous challenging and uncomfortable 'dressing room' environment to help accelerate your development as a coach. Please only sign up if you are ready to challenge yourself and your beliefs.
Register now to guarantee a seat!
[+] If you are already registered for the 2018 United Soccer Coaches Convention and would like to participate in the World Football Academy Wednesday add-on click here to modify your registration. 
"A ground breaking approach that can benefit anyone who loves the game." – Guus Hiddink
'A tailor made working method." – Louis van Gaal
"The information is extraordinary…this could benefit anyone in my position in the US." – Anson Dorrance
Football Braining with Raymond Verheijen
SCHEDULE: Wednesday, January 17, 2018
From Football to Psychology and back
8:30 – 10:00 a.m.
Traditionally, psychological knowledges is projected on to football. The consequence of this 'outside-to-inside' approach is the introduction of many non-contextual terminology and knowledge. As a result, many coaches struggle to apply this non-specific information in the football context. In this presentation coaches will be presented the football specific psychology concept. In particular, coaches will receive communicative tools to be more precise and to-the-point when coaching the psychological aspect in football.
Break
10:00 – 10:30 a.m.
The Role of the Brain in Football in general and Football Fitness in particular
10:30 a.m. – 12:00 p.m.
In the classic training science one often refer to body parts like the muscles, lungs and blood cells when talking about training effects. In this presentation it will be demonstrated how stronger muscles are only a by-product of a stronger brain. When overloading football the body part brain is the weakest link. During this block coaches will get coaching tools to increase the demands within football training exercises and to overload (the brain of) their players.
Lunch
12:00 – 1:00 p.m.
Brain Training within Football Periodisation
1:00 – 2:30 p.m.
Football Periodisation is about the planning of all football activities in the best possible way to get the maximum training effect out of each session and to avoid a loss of training quality due to accumulation of fatigue. The previous two presentations have shown the crucial role of the brain in football. As a result, brain performance and in particular brain fatigue and recovery are fundamental principles in Football Periodisation. In this block coaches will get tools how to apply the latest brain science in football training at all levels and age groups. On top of this, coaches will also get a deeper understanding of how to vary their coaching style during the training week based on their players' brain state.
Break
2:30 – 3:00 p.m.
Coaching Football Thinking: lessons learned from Hiddink, Van Gaal & Co.
3:00 – 4:30 p.m.
The Football Braining concept introduced during this course will be used to theorise top coaches like Guus Hiddink and Louis van Gaal amongst others. What are the objective lessons we can learn from these role models and how can we apply these principles at all levels and age groups in the game?
Questions and Answers
4:30 – 5:00 p.m.
 The World Football Academy
The World Football Academy is the world's leading independent education institute for coaches, staff members and practitioners with departments and events on all the continents. As a major knowledge provider to several FA's and clubs around the world, the WFA is the prime contractor for thousands of football specialists.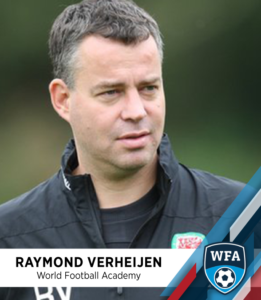 With an immaculate track record and extensive background in football Raymond Verheijen is the leader in coach education and has introduced his unique football specific approach successfully throughout the world.
Since 1998 coach Verheijen has been involved in every FIFA World Cup and EURO reaching 5 semi-finals and a final. Also, in 2009 Verheijen worked with the Dutch National Women's Team in their first ever EURO reaching the semi-final. 
At club level Verheijen has worked with European giants like Barcelona (Champions League 2006), Zenit St Petersburg (UEFA Cup 2008), Chelsea (FA Cup 2009) Manchester City and Glasgow Rangers. 
In 2011, Verheijen became assistant manager with a Wales side that became the most improved nation in the history of the FIFA World Rankings. In Brazil 2014 he consulted Argentina on reaching their first FIFA World Cup Final in 24 years.